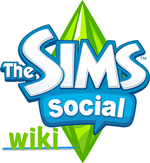 This wiki is an online community collaboration of all things about The Sims Social, a Facebook game. It was started in August of 2011, when the game was launched on Facebook and has been maintained by a large group of volunteers.
We are a collection of players that volunteer time to help other players find what they're looking for (and fix any issues that may come up). Anyone can edit and contribute information to this wiki, and we encourage anyone who is interested in helping to check out our Editing How-To page.
We are always happy to see new contributors! This game has tons of new content each week, and the more people that contribute, the easier it is to get everything posted. Even if it's small, every little bit helps.
Still have questions? For information on how to get in touch with the admins/bureaucrats, please visit the Contact Us page, or post any questions in the forum.
This wiki is not supported by or affiliated with Playfish or E.A. Games.
Community content is available under
CC-BY-SA
unless otherwise noted.