The Art Skill is one of seven basic Skills that can be developed in The Sims Social. It can be viewed as comparable to the "Painting" Skill that appears throughout The Sims series.
Currently, you can level your writing skill up to 509 without SimCash. With SimCash, you can reach level 664.
All Skills Link
Click on the picture to link to the Skills
Art Skill Instruments
Current Furniture
The following furniture items are currently available for purchase in the shop under the skills heading and in the Art section.
Career Furniture
The following furniture can be obtained by progressing in the Art Master career path.
Retired Furniture
The following furniture can no longer be obtained. It was either available for a limited time in the shop, or it was a reward from a quest that is no longer available.
Art Skill Leveling Up Rewards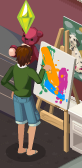 When a new Skill level is achieved, the player earns a reward of Lifetime Points. On some intermediate levels, additional rewards are provided, or objects under Shop are unlocked.
| Level | Reward | Item Unlocked |
| --- | --- | --- |
| 1 | | |
| 5 | 100 , 50 | |
| 8 | | Paintbrush Decor |
| 10 | 1 | Portrait Easel |
| 15 | 2 , 5 | Comic Art Drafting Board |
| 20 | 1 | |
| 25 | 3 , 200 | |
| 30 | 1 | PixelPower Basic, Landscape Easel |
| 33 | | Life Times |
| 35 | 1 | |
| 40 | 100 , 50 | |
| 42 | | DraftBlast Artboard |
| 45 | 1 | Artist's Mannequin |
| 50 | 1 | |
| 55 | 250 , 50 | |
| 60 | 1 | |
| 65 | 1 | Big Pop Art Painting |
| 70 | 3 , 200 | |
| 75 | 1 | |
| 80 | 1 | |
| 85 | 1 , 5 | |
| 90 | 1 | |
| 95 | 1 | |
| 100 | 250 , 50 | |
| 105 | 1 | |
| 107 | | Elements |
| 110 | 1 | |
| 115 | 3 , 100 | |
| 120 | 1 | |
| 125 | 1 | |
| 130 | 250 , 50 | |
| 135 | 1 | |
| 140 | 1 , 5 | |
| 145 | 1 | |
| 150 | 250 , 50 | |