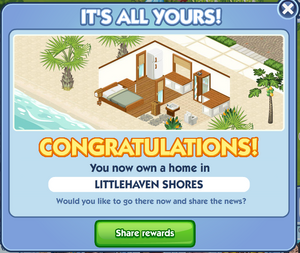 The Beach House is an extra house located in the town of Littlehaven Shores that your Sim can own. You can build rooms and place objects in it just like your normal home.
Owning the Beach House is a step in completing the tutorial quest, Life's a Virtual Beach. It also unlocks several items in the store to purchase.
How to Get
You can find the Beach House by clicking on the Locations button to bring up the world map.
To own this home, you must:
Once you have met the criteria and clicked "Buy", you will need to wait 24 hours for the home sale to be approved. Once that time has passed, you can enter and decorate your home. If you do not want to wait the full 24 hours, you can pay 35 SimCash

to have the home instantly.
Beach House Home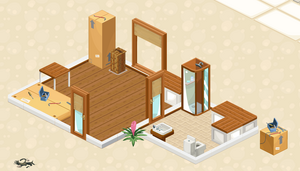 You are given the house with two partially furnished rooms. There are several items laying around your lot that you will need to build to use, including:
Beach House Yard
The Beach House appears on a lot with a different yard than the normal house. Instead of weeds, the following items will appear on the lot:
| Image | Drops |
| --- | --- |
| | Driftwood , Admiration |
| | Palm Leaf , Admiration |
| | Shell , Admiration |
| | Admiration , Driftwood , Palm Leaf , or Love |
The same basic animals that appear at your starting house will also appear at the Beach House. Special weekly themed animals and lot items do not appear at the Beach House.
Lot Expansions
When this item was added during Utopia Beach Week in February 2012, it looked as though there were additional Lot Expansions that would become available at some point. If you hovered over the area it simply said "Coming Soon!"
The first Lot Expansion was released during Pool Week in May 2012 to accommodate the Ataraxia Leisure Pool placement in your yard at this location. You are able to choose which lot (of those available) that you wanted.
The second and third Lot Expansions were released during Egypt Week in November 2012 as a reward for completing the Never Pharaoh-way From Home quest. You are given the option of all available lots to choose from and may pick which two you would like.
So far, the developers have not released any information about the remaining 8 lot expansions for the Beach House. There is no news on when/if these lots will be released.
Community content is available under
CC-BY-SA
unless otherwise noted.