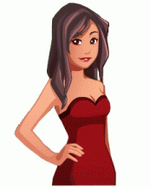 Bella Goth
is a
character
that first appears when you begin the game. She helps and welcomes you to
Littlehaven
when you join The Sims Social and guides your understanding of the game by giving you several
tutorial quests
.
She also is often involved in limited time quests.
Description
Bella Goth appears in all of the Sims Series games as one of the main characters. In the Sims Social, she appears as a young woman in a red dress. She seems to always know what's going on in Littlehaven. She is friends with most of the other characters and has several family members, incluing two aunts Aunt Lily and Tabitha and a cousin Vicky.
Quests
Bella Goth gives the following quests:
Bella as a Neighbor
Bella's House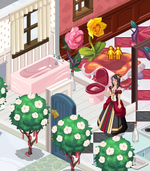 Unlike the other characters in the game, Bella owns a house. You can visit her any time by clicking on her avatar picture to the right of your neighbors menu.
Inside her house are the most recently released items for the week, which is a mixture of furniture and items that costs Simoleons, SimCash, and Social Points. Visiting will give you a good idea what a new item will look like and how you can interact with it before you decide to buy it. Bella will also often wear the newest female clothes. So far there isn't a neighbor who showcases the newest male clothes.
Sometimes the weekly or seasonal quest will require that you visit Bella's house and use these new items to complete your quest.
Relationships with Bella
Unlike other neighbors, you cannot progress very far in your relationship with Bella. Any relationship level that would normally need confirmation from another player cannot be reached. This means you can't be more than Friends or less than Awkward Friends with her.
Many players do not like to be mean to other real people, so they are mean to Bella instead. This way, they can get a daily source of Fury. (Note: this is not recommended).
Since she is not a real player, once you completed your daily visits (Meaning you used all your bonus five energy), you cannot post to her wall. You will still be awarded your usual neighbor visit bonus (1 Energy, plus 10 Social Points if she is one of the first ten neighbors you visit).
Other Images
Community content is available under
CC-BY-SA
unless otherwise noted.