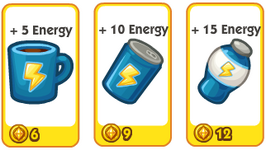 Energy
is required for most actions that benefit your Sim. For example, social actions that will change your Sim's relationship status and increase their social need, or Skill actions that will increase your skill level all will cost you energy.
Energy slowly regenerates over time. It is almost always spent individually, the exception being some Career jobs.
Most Sims have a maximum of 15 Energy, or 16 (by completing the Drivers Wanted Week quest). You can temporarily have more than the maximum energy by collecting it from quests or the daily login bonus; however most of the time you will have a cap of 15. Using Energy that you bought or got from a gift will not make you exceed 15 Energy, with the exception of the +30 Energy boost you can buy below.
Regeneration Time
You will automatically regain 1 energy every 5 minutes. This means that in 1 hour and 15 minutes (75 minutes) you will regain the full 15 energy.
During the three Penthouse quest weeks of Sim In The City, Living The Dream Week, and The High Life, the regeneration rate was half the normal time (one energy every 2:30).
Extra Energy
If you are running low and still want to do energy tasks, you can use the below energy packs. These are a type of Backpack Item and can be used any time to give you instant energy. Some of these can be gotten for free while playing, while others can be purchased for SimCash.
Energy Bonuses
Sometimes playing in game will give you bonus energy. This energy is collected on the spot and cannot be used later on. You can receive bonus Energy by doing the following:
Meeting a new neighbor.

3

Greeting neighbors daily
Drops randomly after an action (Rare drop)

E.g. Playing guitar, cutting Grass, etc.

Doing Quests
Talking to Neighbors