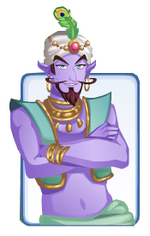 Genie of Littlehaven
is a
character
in the Sims Social who will give your Sim
quests
. Your Sim cannot directly interact with him.
Description
This genie appeared during the Arabian Nights. Completing the quests he gave you awardes the Cave of Wonders Door, a special Vault Skill item.
A miniature version of the Genie of Littlehaven will appear when you rub the Jinn Genie lamp.
Quests
Genie of Littlehaven gives the following quests:
Cave of Wonders
After completing the quests provided by the Genie, you're able to unlock this lovely door, do you dare enter?