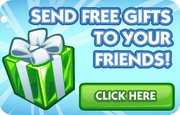 Gifts
are items you can send to neighbors for free - they are not deducted from your inventory. You can send gifts by clicking on the green present on the right part of your screen. If you already gifted a friend on that day, you cannot gift him or her again.
Some gifts are objects which are used to decorate a house and help upgrade house value, while others are backpack items which can be used for completing quests, constructing objects, or consuming to raise energy.
Free Gift Menu
You can send gifts to people by pressing the 'Send Gift' button. You can send it to any of your friends. The current gifts you can send are:
Previous Free Gifts
Former Gifts from EA
Gifts from EA, where brought out from 'Likes' at the beginning of advertising the Sims Social. They are no longer available if you still haven't collected it.
| | |
| --- | --- |
| Gift | Image |
| Black Yosemite BBQ | |
| Liebefunkenmann SS-10 | |
| Portrait Easel | |
| Basix Bookshelf | |
| Pompii Fireplace | |
| Rub-a-dub-dub Bathtub | |