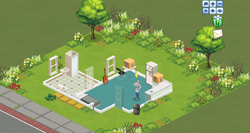 Every Sim has a
Home
that is made of two areas: rooms and a
yard
.
You will start with a house that has two rooms: a room with bathroom items and a room with kitchen items and bedroom items. An example house is shown to the right.
Outside of the house is your yard, which will contain overgrown grass, weeds, dead roots, etc., which require tending. Any space that is not covered with a room is considered part of the yard.
Rooms Explained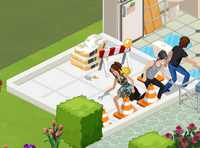 Rooms are bought to expand your home. They do not have any predetermined function; they are just boxes that you can place any items you like into. They will have a white floor and white walls. You will need to buy and place a door in the wall so your Sim can enter the room.
Rooms cost Simoleons. In addition to this, you must have the required House Value to purchase a room.
Once a room is bought and placed, you will need to send requests to a certain number of friends to help you finish construction of the room before you can furnish it, decorate it, or place it into your inventory. All of your friends must accept the requests before you can use the room. You can also pay 5 SimCash for each friend needed to skip sending requests.
Room Types
Below are the different room sizes you can buy.
This article or section is incomplete and requires further information.
You can
edit
this page to improve it.
| Room Size | House Level | Cost | # of Friends Helping | House Value | Picture |
| --- | --- | --- | --- | --- | --- |
| 4 x 4 | 5 | 1250 | 3 | 1000 | |
| 4 x 6 | 4 | 2000 | 4 | 1500 | |
| 2 x 8 | 10 | 2200 | 5 | 1700 | |
| 6 x 6 | 9 | 4000 | 5 | 2800 | |
| 4 x 8 | | 5000 | 5 | 2500 | |
| 6 x 6 | 9 | 5000 | 5 | 3400 | |
| 6 x 6 | 12 | 6000 | 5 | 4100 | |
| 8 x 6 | | 7000 | 6 | 4100 | |
| 8 x 6 | | 7000 | 6 | 4100 | |
| 8 x 6 | 15 | 8500 | 6 | 5400 | |
| 8 x 8 | | 12000 | 7 | 6000 | |
| 6 x 8 | | 15000 | * | 15000 | |
| 8 x 10 | 19 | 15000 | 8 | 7000 | |
| 10 x 10 | 20 | 24000 | 9 | 10000 | |