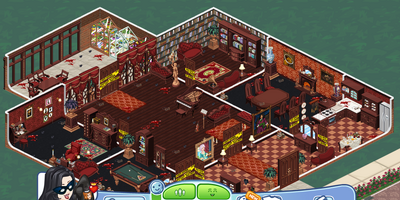 The Mystery Mansion is a limited time location in Littlehaven that is available only during the Make Mine Mysterious! quest in September 2012. This location is available to your Sim during the quest, but will disappear once you complete the final step in the quest. After quest activation, the location will appear in your Locations screen with the word "Quest" and a timer above it. Once the timer reaches zero or you complete the quest, this location with disappear.
Unlocking each room in this location is required for the Make Mine Mysterious! quest. Your Sim will be able to use the items listed below to gain skill levels in order to complete quest requirements.
There are two items present in this location that your Sim cannot interact with: Le Cassius Violin and the Alabaster 6.25 Ltr car. The items will show you how many skill levels are left to complete on the items, but will not allow you to skill them up.
How to Get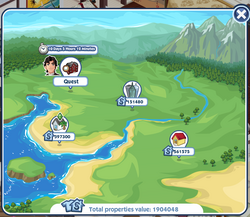 To activate this location, you must log into your Sims Social game on facebook at some point between September 13th and 26th, 2012 to activate the Make Mine Mysterious! quest.
Mystery Mansion Skill Items
You are given the ability to increase your skill levels on most of the items in the Mystery Mansion, as part of the main quest, including:
Mansion Rooms
As you complete each stage of the Make Mine Mysterious! quest, a new room will be unlocked in the Mansion. To access each new room, you will need to click on the door to the room and select 'Unlock'. This will clear the Caution tape from the door and allow you to use it.
Mansion "Yard" Items
The Mansion appears on a dark green and blue yard, rather than the usual yard at your Sim's Home. Though there is a yard area, no items will appear there that need to be cleared. Instead, there are items on the floors and counters inside the mansion that must be cleared (similar to the Penthouse item). These include: