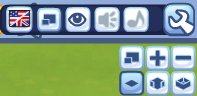 Options are used the change the settings to your own needs. They can help in changing language, grahpics, audio settings, etc.
Option
Information
Picture
Language

You can change the language from

English
French
German
Italian
Spanish

Toggle Fullscreen
You can toggle the screen to make it fullscreen or not.
Toggle Graphic Settings
Toggling the Graphic settings is altering the quality of the game from a weak setting to a excellent quality.
Toggle Music
Toggling the Music and Sound can mute the music from the game.
Toggle Sound
Zoom In
Zooming In & Out can be used to into the game, or out, for a better view.
Zoom Out
Walls Down
Using this, can be used to see all objects behind walls.
Exterior Walls
Using this, gives an option for the outside walls up.
Walls Up
Using this, all the walls are up.