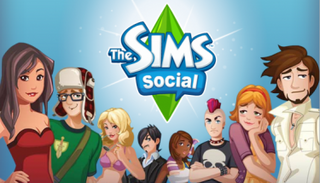 The Sims Social is another game of the Sims series. It was announced at EA's E3 Conferrence in 2011. It was offically released into Beta Mode on the August 9, 2011. It runs as an online, simulation, social type game, where you can play for free. The Sims Social is run by PlayFish, and directed by EA. It has many features as like:
This is much like The Sims Online, where it was run back in December 17th in 2002. It was a massive MMOG, which was shut down August 1, 2008 which had earn't awards like 'E3 2002 Game Critics Awards: Best Simulation Game'.
Though many people hate it because that you only start with a little money and you have to build furniture, you ask help from your friends, and you help your friends also. Hence, The Sims Social.
Difference Between Games
You cannot die, either from Starvation, Fire, etc.
Some of the Skills are Renamed; Painting - Art, Guitar - Music.
Buying furniture requires materials to build. (not all furniture)
You cannot speed up time, just like in the games.
There are more than one currency.
Your Sim has an energy bar, which limits you to doing more then 15 interactions, but can pass 15 if used a higher boost.
Your cannot have a Sim Family, either have a baby. (Yet)
You have to cut your own lawn, where it automaticaly grows.
Skill levels go up to 100.
When you build rooms, it requires 3 or more neighbors to make.
You can receive backpack items.
Your Sim has fixed needs by colors. (not like on The Sims games, needs were on bars.)
You have an asyncronous gameplay. (you cannot see your friends live, but show what they did.)
... the list goes on. C'mon you can spot them out!
Shutdown
On April 15 2013, Staffs from EA had posted an announcemnt of shutting down The Sims Social (Together with SimCity Social and Pet Society). For more infomation, please click here.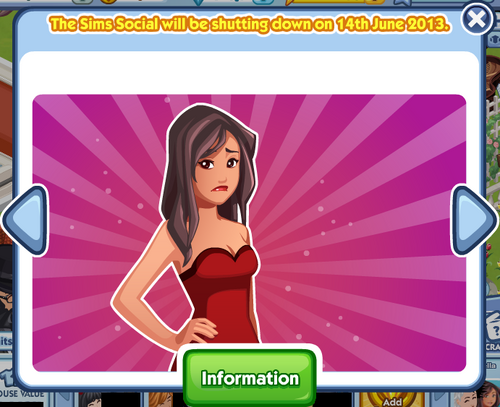 Current Version